BOT20/BEAM200/BEAM230, moving head light Beam

Channels Mode :16/20CH;

Light Source
Lamp: CMY R7 230W ;

Optical System
Beam angel : 3.8°;
Dimmer : 0-100% l inear adjustment

Gobo Wheels
Fixed gobo : 17 gobo + white( 4 of them is colorful glass gobo).

Prism System
16 facet Rotation prism+18 linear prism( two prism can overlay);With rainbow effects.

Control & Screen
Display: LCD display, can reverse 180°.

Gobo Wheels
14 colors+white

PAN & TILT
Pan : 540°; 8Bit/16Bit ;
Tilt: 270°; 8Bit/16Bit ;

Electrical Info
power: 110-240V,50/60Hz;
Total power: 400W;

Size & Weight
Product size: 405x330x495 mm;
Flycaes: 830x480x720 mm;
Carton box: 470x390x580 mm;
N.W: 17.5KG ;
G.W: 70 KG(with flycase 2 in 1);
G.W: 21.2KG(carton).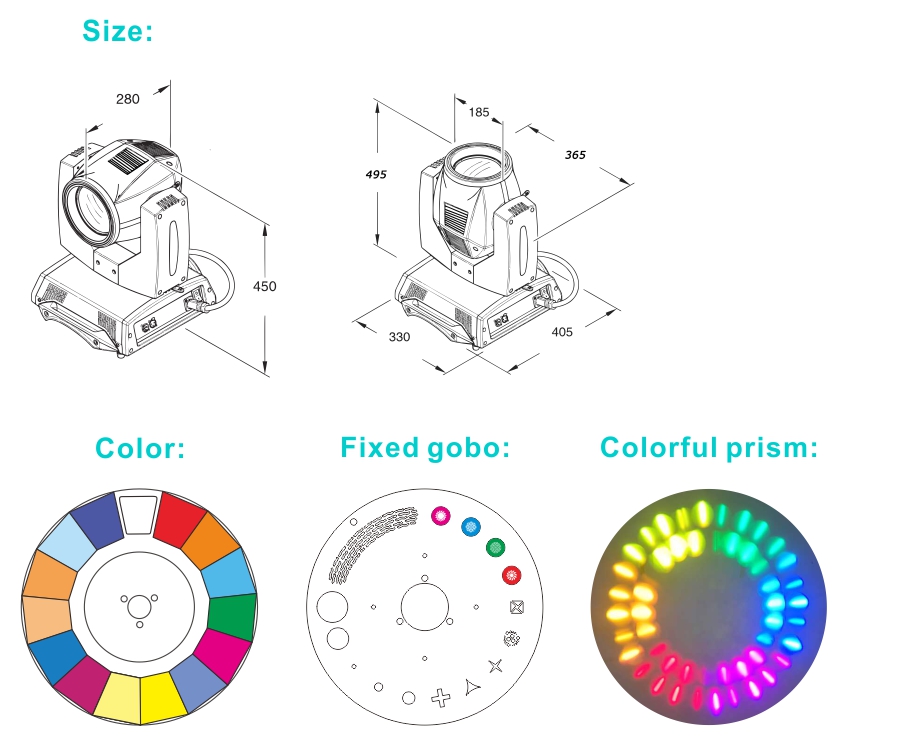 We also products below product:
LED Beam Moving Head,2R Beam Moving Head(also named moving head beam 2R),230W Beam Moving Head Light,280W Beam Moving Head Light(also be called as moving head beam 10R), and other etc Moving Head Light
Why choose XMLITE

XMlite is fast developing company
In March 2010, XM only have 210 square meters factory on the ShiJing town. As the fast development, XM become to 750 m³, In 2010 July. However, when the time arrived November 2011, XM have another chance of become bigger again. Plant size enlarge to 2200 m³.The worker, as well, grows from 20 to 50. On 2013 year, we have arrive 120 staff, and 6000 square meters.

XMlite a reliable factory
XMlite is the first factory, who take 3 years guarantee as the after sell service. In China, there is over 100 user scenarios, In worldwide, there is over 20 countries have customers. XM light only produce two model of beam light( beam200 , and beamspot ). XM try to maximize the sales. XM only sell the product he own produce.

High Quality of the raw material , make the stable product
XMlite 's market position is high cost –effective. Every spare parts picked up from highlevel supplier. The mass purchase quantity make our spare part's cost islower than our competitor. Low cost enlarge our sale amount , sale's increase regurgitation-feedingour cost.
XM have professional research group , skillful engineer .Perfect qualityand good after sell service , will be bring profit for customers. XM alsoaccept the OEM service ,which have good reputation during all customers.

XMlite is one of the biggest moving head beam producer factory in Guangzhou.
We have customers from all over the world as following:
Argentina, Australia, Bolivia, France, Greece, India, Indonesia, Israel, Italy, Kuwait, Malaysia, Mexico, Pakistan, Philippines, Poland, Portugal, Saudi Arabia, Singapore, Slovakia, South Korea, Spain, Sri-lanka, Turkey, U.S.A , Russia and Vietnam.
After-sale Service commitment
1 When the products had the technical problems during use, we will give timely answer once get the inform or arrange the technicals give the service to door..
2 We offer 3-year free warranty (In the first year, all the cost for warranty is paid by our factory, including the freight which for the broken products reback to the factory and the spare parts sent to the customers. And the next 2years, we will offer the spare parts for free)
Remarks: The warranty does not cover the light source.
XMlite also produce:,Moving Head Beam 200,Moving Head Beam 230w,LED Beam Moving
Head,2R Beam Moving Head,280W Beam Moving Head Light(hot beam) and 280W spot Moving
head light( beamspot)
光束灯就是把光源集中在一个焦点上从而使光源更加集中发射出去,形成光束。这样的灯叫光束灯,通俗讲也就是聚光灯。
Voltage: 110-220 Bulb model: CMY R7 230W Wffect wheel: Color wheel: 14 colors Gobo: 17 gobos Power: 230W IP lever: IP20 Voltage: Size: 18.5kg Function: beam,change color Carton size: 400*465*605mm